Charles & Lois Ann Rose [Donor Advised Fund / Scholarship Fund / Bequest]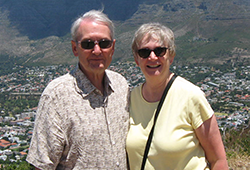 Charles and Lois Ann Rose are native South Dakotans. Charles came from a Meade County farm/ ranch near Sturgis and Lois was born and raised in Lemmon. Both completed their education in South Dakota.
Chuck attended a one-room country grade school, Sturgis High School, and the University of South Dakota where he earned a BA and MA in Political Science. He worked for many years in the health care industry, was involved in the implementation of the four-year medical school in South Dakota, and at retirement was a clinic administrator in Sioux Falls. Lois attended the University of South Dakota, earning a BS degree and Law degree. She worked for many years as a practicing attorney in Sioux Falls.
While updating their estate plan, this generous couple decided to include their childhood communities in their charitable gift planning. Because of their decision to give back, students from the Sturgis and Lemmon High School have the opportunity to receive funding assistance for up to four years of post-high school education.
The Roses' attorney recommended the South Dakota Community Foundation (SDCF) as the vehicle for their charitable funds. With SDCF staff's assistance, two scholarship funds named in the Roses' respective parents' honor and a donor advised fund were established.
Their parents were not able to complete a college education, but made it clear their goal was to provide that opportunity to Chuck, Lois and siblings. The Roses chose to pay it forward for generations to come.
The scholarships will provide funding assistance for up to four years of post-high school education at any accredited institution of higher learning, including vocational training. These scholarships are structured to provide increasing awards each year, so long as the student maintains a 3.0 GPA. Many scholarships only provide assistance to students for the first year of their school, but it's the hope of Chuck and Lois that their scholarships will provide an increasing financial incentive and ability to complete the student's education.
A new recipient is selected each year, so each high school will have up to four current recipients. Chuck and Lois are funding these scholarships with a direct transfer to the SDCF of the Required Minimum Distribution (RMD) from their IRAs, and under current law are able to avoid the income tax on the RMDs.
The Roses are retired and now live half the year in Rapid City and the other half in Surprise, Arizona. They enjoy an active lifestyle which includes foreign and domestic travel, language studies, music, and continuing education through lifelong learning centers.
Because of Chuck and Lois's philanthropic nature and commitment to education, youth in the Sturgis and Lemmon High Schools will benefit for years to come.