Larry Owen [Charitable Remainder Trust]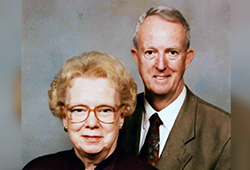 The best way to describe Larry Owen's involvement as a founding member of the South Dakota Community Foundation (SDCF) is to understand his long held friendship with and respect for Korczak Ziolkowski, the sculptor of the Crazy Horse Monument. Korczak dedicated his life to a project that he knew would not be completed during his lifetime. Larry said this multi-generational endeavor appealed to a "Chinese philosophy" that looked at life with a long-term perspective.
Larry was an ardent student of history, philosophy, and looking far into the future when making decisions today. This was evident in his professional life both running a number of local Chambers of Commerce and with his 20-year leadership as an officer with Black Hills Corporation.
He said often that SDCF could grow to provide support for large scale projects that would impact hundreds of thousands of South Dakotans in the future. "Larry was fully supportive of the SDCF as a board member and a member of the investment committee," said Bernie Christenson, Founding Executive Director of the SDCF. "He was a great go-to man when the tough decisions needed to be made. Black Hills Corporation was a donor thanks to Larry."
He demonstrated a long-term approach to life with his own investments, believing strongly that the stock market held the best long-term return . . .even through horrific depressions. He cautioned this only worked with a long-term view and used this philosophy to make sure the company's pension was fully underwritten as well.
Larry felt deeply that those with resources had an obligation to share the abundance with others in need. This drove his participation in many non-profit organizations, including Children's Home Society. He and his wife Marilyn not only contributed personal funds; but also helped raise funds for a number of expansions. As the President, CEO and Chairman of the Board of Directors for Black Hills Corporation he used to talk to employees and friends about the responsibility that companies had to provide a sufficient return to stockholders while treating employees fairly in terms of pay and benefits, all while following the responsibilities imposed on them as a regulated utility. "Larry and Marilyn used this philosophy with their personal assets and established a charitable remainder unitrust in their estate plan," said Rapid City attorney Kurt Solay, who has worked with the family for many years. "It was their desire that their children have use of the trust assets during the children's lifetime, and the SDCF ultimately receive the trust assets upon death of the children."
A charitable remainder unitrust can be an excellent vehicle to provide a distribution stream to a donor or to a donor's family members for life, with the balance of the trust being distributed to charity upon death. A fixed percentage of the trust assets are typically distributed to the donor or donor's family member on a quarterly basis and the trust assets are revalued annually. When properly utilized, a charitable remainder unitrust can offer clients significant income and estate tax benefits.
All of this comes together in the work Larry Owen did to create the SDCF. Working with many people across the state, Larry saw the potential of combined financial strength. Over an extended period of time, investments would grow and create a fund to confront any challenge communities might face for generations. He helped start a movement that would not fulfill its potential during his lifetime but would have a nearly endless capacity for action over time.
This is the same spirit that the Ziolkowski family used to complete the famous head of Crazy Horse long after Korczak's death. It is the same spirit that will make the SDCF a key resource for our state for generations into the future.
Both Larry and Korczak would approve.