Mansour Karim [Endowment]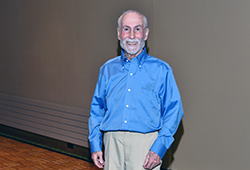 Mansour Karim immigrated to the United States from Iran in 1950 at age 22 with just $27 in his pocket. In 2018, Karim, who passed away in 2019, celebrated his 90th birthday in Pierre and a lifetime of more than $2.5 million in philanthropic gifts to his adopted country.
"Mansour is truly an example of the spirit of generosity—of what it means to be a South Dakotan," said Stephanie Judson, president of the South Dakota Community Foundation (SDCF). "He has embodied what our mission is at the Community Foundation and we are confident we'll be watching the effects of his generosity on the people of this state for decades to come."
Karim first partnered with SDCF in 2014, making a $25,000 gift to establish an endowment fund for the Boys and Girls Club of the Capitol Area in honor of his parents, Jafar and Zahra Karim. Later that year, he announced his goal to build a $1 million endowed fund to for the Club by offering matching gifts of $100,000 a year for five years. In the summer of 2018 he celebrated his 90th birthday and his fifth and final pledge to the Boys and Girls Club.
"The milestone was a celebration not only of Mansour's life, but the legacy he forged in this state," Judson said. "His life history was a testament to the characteristics he and his family have demonstrated their entire lives—kindness and generosity."
Karim grew up in poverty in Tehran, Iran, with two loving parents, whom he credits with a happy upbringing. Mansour faced many challenges alongside his family's economic outlook. At age 10, he was stricken with a skin infection on his head and missed a year of school battling the disease.
Despite many hardships, his parents focused on helping Karim secure an education in the United States. In 1950, he made the long journey to South Dakota with very little English, but very big dreams. He secured a job in the seed lab at South Dakota State University (SDSU) and worked his way through college, studying at Huron College. He went on to earn his bachelor's degree in engineering at SDSU in 1956 and his master's degree in 1961. Mansour went to work for the Department of Transportation as the leader of their Hydraulics Section, a position he held until he retired in 1991.
He met the love of his life, Ruth, in Pierre while working for the Department of Transportation. He has been giving back since, Judson said, both in financial investments and in acts of service. Karim also established funds for the Cultural Heritage Center museum in honor of his children and scholarship funds in both his name and his late wife Ruth's name.
Pierre Post 8 of the American Legion honored Karim as the 2016-2017 "American Legion Good Samaritan of the Year." In 2016, he was awarded the George S. Mickelson Award by the South Dakota Teenage Republicans.
"Mansour's humble beginnings played a role in his perspective and the way he treated others," Judson said. "He knew the sacrifices his parents made for him and he focused on not only honoring them but doing so in a way that sets an example for future generations."