Craig Matthesen – Endowment / Bequest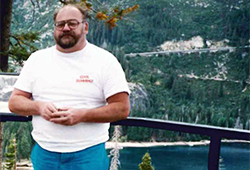 Craig Matthesen was the definition of a small town businessman. He prided himself on providing local service to the Huron community for decades as the owner of Freeze Frame Video, an independent video rental store. Craig passed away unexpectedly at the age of 65 in March 2016.
Today, his friend, financial advisor and president of the Huron Community Foundation Steve Gohn looks out the same storefront window that Matthesen did each day. With a partner, Gohn purchased the building on Dakota Avenue from his friend to house his own local business, Avail Wealth Management.
"It's bittersweet to be in the building. I miss my friend," said Gohn. "Although he had a gruff, sarcastic personality, he had a big heart, and a desire to make an impact on his community."
Matthesen poured himself into starting and making his business a success. His commitment to his business left little time for community involvement, but he actively gave back during his life by mentoring the young people he hired to work in his store.
"Craig grew up in a wonderful, loving home and learned his frugality and entrepreneurship from his dad," said Matthesen's brother, Larry Matthesen. "He learned the value of investing at an early age and followed it throughout his life."
With the help of Gohn, Matthesen planned to make an impact after his lifetime. Matthesen remembered that when growing up in Chadron, Nebraska, an individual left money to the community after passing away. With the gift, the town built a new baseball field for the entire community to enjoy. The concept of that selfless act stuck with Matthesen throughout his lifetime, and he decided to carry it on with an estate gift to the Huron Community Foundation to benefit the Huron community, Chadron State College and the baseball program in Chadron.
"Craig gave to three things he cherished: baseball, the Huron community, and South Dakota," said Larry Matthesen. "He felt the South Dakota Community Foundation was best to use the money."
"Craig was a good businessman, and over time, he realized the Huron Community Foundation was a good steward of the funds entrusted to it," said Gohn. "It was important to him that we are very careful to make sure grant funds are used to touch as many people as possible in Huron. And we do exactly that."