Vern Jones – Charitable Remainder Trust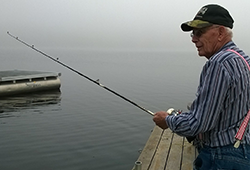 Vern Jones was a farmer and rancher for 63 years - ever since he was six years old. He had a love of the land but knew when it was time to move on to a new phase of life and allow someone else to carry on what his father had started many years before. Before he retired and sold the family ranch, he sought legal advice from Sturgis attorney Dale Hansen, in hopes of avoiding tax consequences due to increasing land values. Because he had no heirs, and his siblings were able to provide well for themselves, he established a charitable remainder trust, which would be managed by Pioneer Bank and Trust. Upon his death, the funds would be sent to the South Dakota Community Foundation and placed in the Vern Jones Fund, a fund that would ultimately benefit the Greater Sturgis First Interstate Bank Fund.
Vern's life in Sturgis was full. He was generous with his time and resources and gave back to the community in a quiet and unassuming way. The Meade County Senior Center was the place he spent his mornings and ate his mid-day meals. He was reacquainted with old friends and learned how he could serve others. He joined the Sturgis Kiwanis Club and was eager to help with their fundraising efforts for their Food Pantry, so they could have their own building in the community.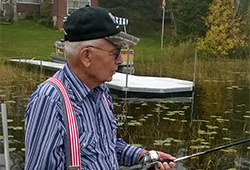 At home, his days were filled with gardening, baking, canning and puttering in his yard. As a single man, he shared what he grew and made with his friends at the Senior Center. While he was passionate about the Senior Center and Kiwanis Club Food Pantry, he also supported many other causes through his monetary donations. According to Thelma Bottum, his sister and personal representative, "my brother was a simple man with simple needs, but with a big heart who was willing to share his generosity - time or money - with others that needed a little help or maybe a little teasing to cheer them up".
Vern Jones passed away in February 2017 and left an estate of over $1.2 million. His love of the community of Sturgis will always be remembered through his creation of the Vern Jones Fund. Each year, beginning in 2019, distributions will be made from the fund, and the volunteer Advisory Board will grant money to worthy organizations who apply for assistance.
This was Vern's plan and his wish, and he will forever be remembered for his love of people and his community that brought him so much joy in the last years of his life.