Jeff & Linda Erickson – Donor Advised Fund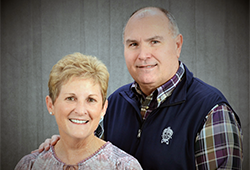 In both family and career, Jeff and Linda Erickson's life together may best be described in the words of Henry David Thoreau "Success usually comes to those who are too busy to be looking for it." Or as Jeff says, "Dream big, but work small," words he still lives by today.
Their busy lives started when they met as student-athletes on the campus of Northern State University where Jeff played football and Linda played both basketball and softball. Both raised by ambitious, hardworking parents, Jeff and Linda always focused on the task at hand. "Our parents felt all work has value. No task is beneath your effort to do it well", said Jeff.
After graduating, Jeff began his banking career in Spearfish, where Linda also finished her degree in Elementary Education at Black Hills State University. Jeff's career would take them to many communities in and around South Dakota. Starting in 1995 he spent 15 years as CEO of Great Western Bank in Watertown. As the bank grew, they moved to Sioux Falls in 2006 where they currently reside. Great Western Bank was sold in 2008 and Jeff retired as CEO of the bank in 2010. Linda taught school in Spearfish and Chamberlain and then served as the Education Coordinator of the Redlin Art Center for 7+ years in Watertown while the couple raised their four children.
Now, with twelve grandchildren, they are defining what success means for their family, both now and long into the future. "We enjoy having the opportunity to share the fruits of our labor with others and to build a legacy of giving for our kids and our grandkids. I hope they see that our work had a purpose, and still does," Erickson remarked. "Our family has always been our primary focus, and we want them to be involved in how our giving can change lives and make a difference in the world," Linda Erickson added.
They started their philanthropic work with the Foundation more than ten years ago through the establishment of a family donor-advised fund that would later involve their children and grandchildren. "When the bank sold, Linda and I decided that we wanted to build an endowment that would allow us to continue the giving we had done during our careers," Erickson said. "We were familiar with the South Dakota Community Foundation. We appreciated how it was managed, respected the strong leadership of their board of directors, and recognized that their vision aligned well with ours," he added. A few years later Erickson was elected to the SDCF Board of Directors and has served as Board Chair, carrying on the business model that first drew his attention to the organization.
"The problem with loving your work is you never really retire," Jeff Erickson said. Currently, Jeff is a partner in American Bank & Trust, Chairman of the Schwan's Company Board of Directors, the Chairman of his Family Office and the manager of multiple additional LLC's. "The upside of our continued effort is that we can expand our charitable goals and involve our kids and grandkids at an early age," he added. With assets of the Jeff and Linda Erickson Family Fund already exceeding $3.5 million, Jeff and Linda intend to, along with their children and grandchildren, distribute $200,000 or more annually through their fund and continue the family's philanthropic mission for multiple generations.
Jeff and Linda have given a great deal of thought to the types of organizations that they want this money to go to in the future and have included a list of appropriate charities in their fund documents. "Through our planning, our children and grandchildren will be able to give significantly to charities and nonprofits that our family agrees we want to support now and going forward," Linda Erickson said. "It is rewarding to see the benefits experienced by the programs receiving funds," she added. Jeff agreed, "By involving our kids, we are teaching them to be giving and, we are assured that the needs of the agencies we support will continue to be met in the future."
Stephanie Judson, Foundation president, pointed out the unique aspects of the Erickson's giving to the SDCF. In addition to the sheer level of their generosity, they have used a combination of appreciated stock and other assets that allow personal tax savings, as well as the maximum benefit to the Foundation.
"It has been my pleasure to work with Jeff and Linda as they achieve this milestone in giving. Their family tree has a new limb because of Jeff and Linda's generosity," Judson said. She added, "That limb will only be strengthened by the generations ahead as they continue what Jeff and Linda started.