Bill Matousek – Endowment/​Community Foundation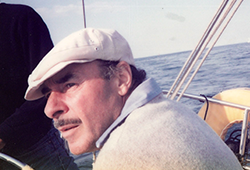 To those who knew him, Bill Matousek was the epitome of generosity. Betterment of the Tripp County community was extremely important to him. If there was a cause in the area that was in need, Bill was the first to commit to helping in any way he could.
Through careful estate planning, Bill was able to establish and add to an existing fund at the South Dakota Community Foundation (SDCF). The William J. Matousek & Marjory E. Calderia Fund, under the direction of the Tripp Co. Community Foundation (TCCF), will be used for a variety of community organization needs in the Tripp County area. He also established the William J. Matousek Tripp County Historical Fund to benefit the Tripp Co. Historical Society through the TCCF in perpetuity.
"With the funds given for the benefit of the Tripp County Historical Society, they will be able to promote the history of our area with less concern regarding expenses," said Dawn Covey, friend and board member of the TCCF. "Bill loved history and it was important to him that the history of the Tripp County area be preserved."
Bill was one of the founding board members of the TCCF and served as Chairman until 2017. "There was no greater supporter of the Tripp County community than Bill. No philanthropic effort was too big or small for him to tackle," said Covey.
Bill was very proud of his roots in the area and especially of his alma mater, Winner High School! Bill was the 1952 Homecoming Warrior and every year was proud to attend roll call for the class of 1953. Everyone remembers him as the voice of the TCCF, as each year he took liberties with the microphone at roll call to put a plug in for the local Foundation. In 2017, Bill was humbled and honored to be selected as the WHS Homecoming Parade Marshal.
"Everything Bill did, he did quietly, behind the scenes, not looking for self-promotion or fame," said Covey. "He did these things because of his great compassion to help others and high hopes for the future of our community. He will be greatly missed by all of his friends in the Tripp County area."
Through his estate planning in partnership with SDCF, Bill's care and generosity will live on forever. "Bill was a great example to the board members of the Tripp County Community Foundation," said Keith Goodhope, former TCCF board member and executor to Matousek's estate. "His philanthropy locally inspired the rest of us to do better."