Dan and Arlene Kirby – Endowment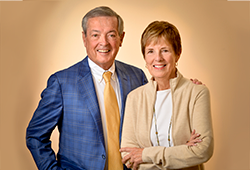 Native South Dakotans Dan and Arlene Kirby of Sioux Falls are longtime supporters of SDCF's ability to create legacy charitable giving opportunities and connections to local South Dakota communities.
"The truth is that most of our philanthropy over the years has been focused on the Sioux Falls area, but more recently we have identified needs and programs which serve South Dakotans more generally," said Arlene. "Our Sioux Falls experience has taught us that the most efficient way to accomplish long term philanthropy is through community foundations, and Dan's experience on the SDCF board affirmed that this is the perfect vehicle to use for statewide giving."
Dan served on the SDCF board for 9 years and chaired the Investment Committee for four of those years. Arlene's interest in the SDCF arose more recently, as she explored ways to give back to the Wagner area in memory of her parents and grandparents.
Dan was born and raised in Sioux Falls, the oldest of the fourth generation of Kirbys to reside there. He spent seven years in California for college and law school in the late 60's and early 70's.
Dan and Arlene met in 1967. Dan received a call from his father saying a family trip was cancelled. His disappointment was compounded by the fact that his fraternity's biggest party of the year was scheduled for Saturday night, and now not only was the family trip cancelled, but he didn't have a date. Fortunately, a friend guaranteed a date for Dan to the big barn dance. Upon arrival, Dan met his date, Arlene Wagner from Sacramento, California. A friend in the back seat initiated a conversation with Arlene that went something like this:
Q: Where did you go over your four-week Christmas vacation?
A: To visit my grandmother.
Q: Where does she live?
A: Oh, a small town in the Midwest.
Q: But where did you go??
A: South Dakota…want to make something of it?
Q: HAHA…ask your date where he's from!
From this inauspicious start, their relationship blossomed into love, marriage, kids, retirement and memories.
It turned out Arlene's Dad (Lambert "Wag" Wagner) was a third-generation Czech immigrant, whose father and uncles had owned banks in Lesterville, Tabor and Utica, but lost them in the agricultural depression of the teens and 20s. Arlene's parents lived in Wagner until a few months before her birth in Sacramento, which makes Arlene a true South Dakotan as well.
Dan and Arlene were married in Sacramento in 1971. Arlene worked as an international flight attendant while Dan attended law school. Trans International Airlines flew charters out of Oakland, California, and took her to five continents. Her least favorite trips were taking troops into Vietnam, but she enjoyed bringing them home. After marriage, she worked as a travel agent in La Mesa, California.
Dan practiced corporate law briefly in San Diego before the couple returned to South Dakota in 1974 where they raised Douglas (1978) and Sharon (1981) who now live with their families in Longmont, Colorado and Fairfax, California. Dan spent his career as Executive VP and General Counsel to Western Surety Company in Sioux Falls. The company was sold to CNA Surety in 1997, and when Dan retired in October 2000, he was the last remaining Kirby at this fourth-generation family business.
"The overriding objective of our philanthropy is to leave our neighborhoods better than we found them," said Dan. "Both of us have been honored to serve on the boards of numerous non-profit organizations that have opened our eyes to the needs of South Dakotans and to those agencies and programs which best and most efficiently serve them."
The Kirbys have generously established and given to many endowment funds at the SDCF. One example of their philosophy to accomplish long term results came in trying to find solutions for the South Dakota reservations. Like many South Dakotans, the Kirbys are aware of the numerous governmental and private initiatives that have attempted to address poverty, health, addiction and education for Native Americans.
"In our experience, most…perhaps all, of these have failed miserably…especially federal efforts," said Dan. "That's why we were thrilled in recent years to discover Teach for America, which brings talented young teachers from all over the country to light fires in the youngsters who need an escape from broken lifestyles, with the promise that many will return to the reservations to help others learn that hope is alive for young Native Americans."
Unlike many nonprofit efforts, Teach for America uses strict metrics and can demonstrate marked success in improved graduation rates and acceptances at some of the greatest colleges in the USA. The Kirbys were pleased to establish the Teach for America-South Dakota fund at the SDCF to ensure that this important work continues long after they are gone.
When Arlene's mom passed away, she became intrigued with the possibility of giving back to the Wagner back to the Wagner community where her ancestors lived and died. The SDCF was very helpful in connecting her with the Wagner Community Foundation, a SDCF community savings account, to explore options.
"We have been blessed with the opportunity to help improve our communities and believe strongly that endowments are the perfect vehicle to make that happen forever," said Dan. "Through comprehensive estate planning over the years, which we strongly recommend, we have been able to adequately, but not extravagantly, provide for our descendants. That planning has left us with a pot of assets to distribute to the same charitable causes that lit our fire while we were active in our communities. We are pleased to say that will include the unrestricted fund and several designated funds at the SDCF!"