Steele Family [Scholarship Fund]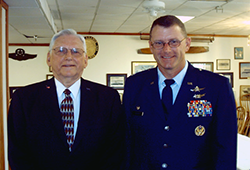 Though the Steele family lives hundreds of miles away from Faulkton, South Dakota, the connection they feel to students who benefit from the scholarship fund they established in their hometown deepens each year.
"Faulkton is a town where people care about each other," says Daniel Steele, one of three donors to the Steele Family Faulkton High School Scholarship Fund, which is managed by the South Dakota Community Foundation (SDCF). "We want people to see that you don't have to live where you give. We have a strong bond with our hometown, even though we're not there permanently. We want to see the community prosper."
Charles, Larry, and Daniel Steele started the scholarship fund in 2012 and the first scholarship was issued in 2014. Larry currently lives in Texas, Daniel in Florida, and at the time of inception of the scholarship, Charles was living in California. He passed away in 2013. "Even though we live in other parts of the country now, we continue to focus on supporting Faulkton," Daniel says.
The scholarship awards $5,000 to a student attending a four-year college. The amount students receive each year increases to motivate them to maintain good grades and complete their education. "There's accountability," Daniel says. "We tell scholarship recipients the best way they can thank us is to do well in school, and they do."
New to the fund this year, a $1,000 scholarship will be given to a student enrolling in any post-secondary institution, including technical schools.
"We have had outstanding applicants and are thrilled to have had a small part in their success," Larry says. "Every time I go there and meet the students, they are so appreciative. It makes it more than worth it. This scholarship is the best thing we've done through our giving."
Larry started the fund along with his brother, Charles, and his son Daniel after Larry lost his wife in 2010. He set up a trust but was interested in helping others during his lifetime. "I'm more of an action person, and I want results now," he admits. "I had been doing small charitable contributions over time, as my income allowed, but nothing substantial. I felt I wanted something more immediate."
He discussed with his son the possibility of starting a scholarship fund at the SDCF, benefitting students in Faulkton, and they invited Charles to join them. Their ties to the South Dakota farmland remain strong. Charles graduated from Faulkton High School in 1943. He was a Navy pilot and later earned his bachelor's degree through the World War II G.I. Bill. He also earned his master's degree while rising through the ranks at a global accounting firm. Charles and his wife Shirley eventually retired to California.
Larry graduated from Faulkton in 1956. He worked in agriculture, attended South Dakota State, and joined the United States Air Force. He also attended Weather Observer School and Weather Forecaster School and was accepted into the Air Force Bootstrap Program where he earned his bachelor's degree. He retired from the Headquarters Air Weather Service in 1979 before retiring from a second career in information systems in 2007.
Daniel graduated from Faulkton in 1983 and earned a Master of Arts degrees from the University of South Dakota and George Washington University. He went on to join the United States Air Force as well, rising through the ranks to lieutenant colonel. He retired in 2016. His time in the Air Force included serving as deputy director of communications for the multi-national security transition command in Baghdad, Iraq for Operation Iraqi Freedom.
Education has been a centerpiece of each of the men's lives, Daniel says. "That's why we started this scholarship-it was where we felt we could make the biggest contribution to the community," he says. "Chuck grew up on a farm near Seneca, and so did Dad. None of us had a lot of money to go to college."
Tapping into the opportunities available through the military, extra jobs and hard work allowed them all to earn degrees. "But we know that there are some kids that no matter how hard they work or how good their grades are, there's no money available. We want to help them," Daniel says.
Larry says when they first started considering the logistics of a scholarship, they were hesitant to form a private or family foundation. "The requirements and reporting seemed overwhelming for the amount of money we were considering," Larry recalls.
It wasn't until a conversation with the SDCF that the best route crystalized. "They were super responsive and told me they could do all the work that a family foundation would do for us, with a lot less hassle," Larry says. "It was one of the most positive and productive meetings I have ever been to."
The process that has unfolded has been seamless, he adds. The committee that decides who receives the scholarships each year is made up of Faulkton community members, and the relationship with the SDCF has grown. "We are absolutely thrilled to work with them," he says. "The staff is knowledgeable, helpful, and a delight to work with. I don't want to leave when our meetings with them are over."
Larry says it's a good feeling to know they are directly touching the families and students of the place that helped build their lives. "In Faulkton, if somebody needed help, people helped," he says. "All the neighbors got together, and nobody got paid. That's how it was. I hope it stays that way. We want to continue to help people grow and become better."
Daniel adds they have played just one part in bettering the Faulkton community. "Some of these students will go on to become teachers and doctors," he says. "Wouldn't it be nice if they came back to Faulkton or even South Dakota? This is about teamwork and partnership. It's the kids, and their parents, us, the town and the entire community. This helps make the community even more of a community."