Gary & Connie Grittner - Donor Advised Fund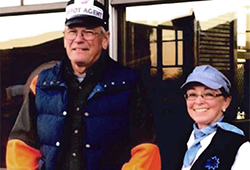 The Gary and Connie Grittner story begins like many others. They were both born in Central Minnesota. Neither family had money for college, but both Gary and Connie were strongly encouraged to get an education, and both achieved advanced degrees. Working their way through college taught them the value of hard work and the understanding that saving would pay off later in life. Indeed, planning for their retirement and a goal of financial independence began the first day of their marriage.
Gary served in the Navy and retired after 27 years of active and reserve service. Both Gary and Connie served in the civil service at a Defense Department research laboratory. They elected to retire early after the United States won the Cold War. Seeking a community in which to retire, they moved to Fort Pierre, enthralled by the rich history of the area and the opportunity for great recreational experiences. Enjoying their free time, they began looking for volunteer opportunities.
Based largely on their work experience, the Grittners felt that insufficient resources are being invested in gifted young people, a cohort that will likely provide much of the leadership of the country in the future. They started exploring opportunities to impact the education of young students. The Grittners sought a financial entity that could protect their assets and ensure their legacy while providing flexibility in making charitable donations at appropriate opportunities.
While the Grittners funded scholarships and endowments in Minnesota in the past, these entities did not meet the Grittners' needs. The Grittners established a donor advised fund with SDCF, allowing them to make capital additions at the donor's discretion and charitable disbursements for a range of educational activities.
In 2011, the Grittners made a $1 million commitment to their SDCF endowment. Priorities include summer camp tuition at the South Dakota School of Mines for high school STEM students; monthly books for Stanley and Hughes County children from birth to age five through the United Way and the Dolly Parton Imagination Library; a laser cutting machine for a high school engineering classroom; the first fort in Fort Pierre in 150 years; a matching grant for STEM projects at a middle school; a sponsorship of four bronze statues in the Pierre Trail of Governors; matching grants to the Greater Lyman Foundation; a contribution to rehabilitate the Pat Duffy Community Center in Fort Pierre; and support to rehabilitate the 1906 train depot in Fort Pierre.
While spending time volunteering with local service organizations and donating to various causes, Gary and Connie also enjoy their retirement. Practicing what they preach with respect to reading, they subscribe to seven newspapers, many magazines and try to read several books each per month. They have traveled to all 50 states, all seven continents, have been on a dozen cruises, and use their RVs frequently. Their only restriction to foreign travel occurs when blood banks refuse donations from visitors to certain countries, since Gary is a "210 pint and counting" blood donor. They enjoy working their South Dakota properties to improve the habitat for pheasants, and host friends and family during hunting season. Summertime brings motorcycling, boating, and fishing, with northern pike their favorite fish to eat. Keeping physically and mentally active is important to them.
Philanthropists have many different goals and objectives, but the flexible contribution and distribution policies of the SDCF, along with ensuring a secure post death legacy, was an ideal match for the Grittners.