Lori and Wayne Ibarolle [Memorial Gift]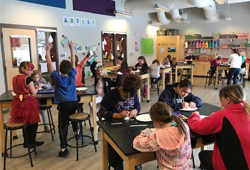 Looking for a way to memorialize their daughter Khrista, who at the age of 31 was killed during a carjacking incident in California, Lori and Wayne Ibarolle contacted the Boys & Girls Club of Yankton.
The Club had a relationship with the South Dakota Community Foundation (SDCF) through their endowment efforts and when approached by the Ibarolles with this opportunity, they promptly invited SDCF to be a part of the conversation.
The memories of their daughter Khrista - a creative, talented, kind individual who went out of her way to help others - lives on at the Boys & Girls Club through an endowment fund established at the SDCF. The funds provide art supplies for Khrista's Kloset - art supplies that are available to students when they have earned the privilege with leadership or good behavior. One cabinet is located in the elementary room, and the other is in the middle and high school room.
Khrista's Kloset has provided an opportunity for kids to be creative, but it has also uniquely engaged the community. "The Sewing Club has been our biggest hit with Khrista's Kloset," said Koty Matthiesen, executive director of the Boys & Girls Club of Yankton. "We have had an incredible turnout with community members donating fabric, thread, lending sewing machines, and volunteers willing to donate their time to teach this timeless skill," says Matthiesen. Currently the Sewing Club has eight youth participating, and their projects include making pillowcases for the homeless shelter, sewing bags, and hand stitching. "A member of our Sewing Club disclosed that her dad works really hard throughout the day and gets holes in his socks easily. She mentioned that he cannot afford to buy new socks all of the time, and she looks forward to being able to sew up his patched socks for him now that she knows how to sew," commented Matthiesen.
Leadership of the Boys & Girls Club believes that Khrista's Kloset does more than just store art and sewing supplies, it serves as a connector between their mission and the people in the community. Recently, a former classmate of Khrista came to the Club and got a tour, stating that he had been building up the courage to come and see Khrista's Kloset for a while now. He took one step into the room, saw Khrista's photos on the Kloset, and began to weep. He has filled out a volunteer application and is eager to come to the Club to teach art classes.
Lori and Wayne hope to add Khrista's Kloset to more Boys & Girls Clubs and to increase the endowment so one day they can pay for art instructors to lead classes for the students. "I'd like to be able to have instructors that teach things the students wouldn't normally have the opportunity to learn, like sewing, ceramics, and jewelry-making," Lori says.
Mostly, they hope the legacy of kindness Khrista left lives on. "Khrista would serve anyone, and now allowing her legacy to serve anyone, it's a beautiful thing," Wayne adds. "Hearing the response of the students' experiences with this unbridled creative art experience, it warms me every time. She made all of us a little better and challenged the way we view life."