Doug and Linda Buri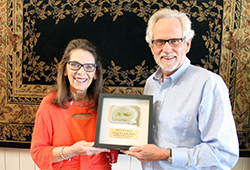 Doug and Linda Buri of Milbank have been selected for the South Dakota Community Foundation (SDCF) Hometown Hero Award. According to the SDCF, Hometown Heroes are a special group of people with a passion for helping communities grow and thrive. The Buris have been champions of the Milbank community since Linda started her business, Linda's Fashions, in 1980.
Linda was elected the first female president of the Milbank Chamber of Commerce, and Linda and Doug have supported the Milbank Educational Foundation, Milbank Fire and Rescue, the Milbank Hospital, Combined Appeal, Milbank Valley Hospice, the Backpack Program, South Dakota Community Federation, the Fairy Godmother's Fund, It Only Takes a Spark, and the Milbank Snow Queen Festival. They also contribute to Linda's hometown by donating to Grow Castlewood.
The Buris recently established a donor-advised endowment fund (DAF) with SDCF.
In particular, the Buris generously support the Fairy Godmother's Fund (FGF). This permanent endowment fund held at SDCF provides immediate, short-term, critical financial support to women in South Dakota.
The FGF assists South Dakota women with limited resources who find themselves coping with a sudden illness, loss of employment, abuse, or other issues. "We help them get back on their feet," administrators from the FGF say.
"We are grateful to the Buris for their continued support of the Fairy Godmother's Fund," Ginger Niemann, SDCF Senior Program Officer said. "It is because of generous donors like Doug and Linda that we are able to create a never-ending story of people helping people."
"With this fund, Linda and I are able to see our charitable dollars grow over time and distribute funds to any nonprofit organizations we choose, forever," Doug says. He adds, "We trust the investment and administrative expertise provided by SDCF and are honored to partner with them in creating a stronger Milbank and South Dakota."