Glenna Fouberg: Volunteer/Fundraiser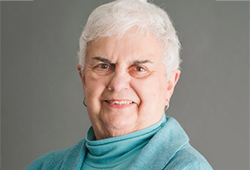 For the SDCF, Glenna was a founding member of the Fairy Godmother's Fund, which assists women in need in the state. She recalled former SDCF president Bob Sutton recruiting her to help launch the Fund, a request to which Glenna responded, "Do I look like a fairy godmother?" Sutton answered, "No, but I think you can raise money for it." And she signed on.
The Fairy Godmother's Fund was announced at a women's conference in Pierre in January 2009. SDCF Senior Program Officer, Ginger Niemann, remembers that the chairs in the luncheon room were decorated with wings. All the founding godmothers, including Glenna, contributed items and raffled them off. Glenna's contribution was a basket of her knitting. The event raised $6,000, and SDCF added a $5,000 grant to launch the Fairy Godmother's Fund with $11,000.
All the Fund's Advisory Council members helped raise money, and Glenna was especially keen. Glenna joked that people in Aberdeen would cross the street if they saw her coming because they knew she would ask them to donate. A woman who served on many boards in Aberdeen and statewide, Glenna raised both funds and awareness at those meetings.
She was also instrumental in getting the word out in the circles who needed to know about the Fairy Godmother's Fund. As a former educator, she came across people in all walks of life, including those in need of a hand up. As Rod put it, "She had a knack for understanding what people needed-if a little cash would go a long way or even encouragement."
That generosity was in her nature. She regularly gave away what she knitted or crocheted. Ginger says Glenna always came to the Fairy Godmother's Fund meetings and SDCF office with gifts of her handiwork and treats for the holiday for the council members and staff. Rod adds that she gave away hundreds of jars of homemade relish wrapped in one of her knitted dish cloths.
While Rod and Glenna led many major fundraising efforts in Aberdeen, he says it came naturally for her. She deeply believed in the causes, which made it easy for her to explain and support-and solicit. That carried over into the Charity Lunches she established in Aberdeen.
Glenna learned about a similar lunch in Brookings from a friend and launched it in Aberdeen about a dozen years ago. The simple idea is that people bring $20-$10 for the meal and $10 for the charitable cause the group would decide to support. A foe of bureaucracy, she insisted on no bylaws or organization, just the consensus of the group. Sometimes she promoted a cause, and often others brought an idea to the group. The monthly lunches brought in $800-$1,000 for the charity, and Rod notes that the more important benefit was the raised awareness to needs in town. Ginger recalls that Charity Lunch funds sometimes supplemented a Fairy Godmother grant to someone in Aberdeen.
As noted, the Fairy Godmother's Fund is just one of the many ways Glenna supported her community and those in need. Her years as an educator exposed her to a variety of situations in which the young especially had needs going unmet. She experienced this even more after she assumed leadership of the Alternative Learning Center (ALC) at Central High School in Aberdeen, which was a way of not giving up on students who struggled. She was very proud of the ALC. Rod says, "One of her greatest joys as a teacher was seeing her students succeed, and she would brag about them." They returned the love. One told a newspaper, "I skipped school every day last year. I haven't skipped once this year, because of her." Rod added, "We went to a few weddings of kids who'd gone thru ALC and wanted Glenna at the wedding."
Her education career was recognized with awards and more responsibilities. She was named South Dakota Teacher of the Year in 1994 and was appointed to the State Board of Education in 1998, where she served for 21 years. In addition, she helped start the annual Indian Education Summit, helped lead the South Dakota Indian Education Advisory Board, co-founded the South Dakota Teacher Summit, and supported and advocated for Teach for America in South Dakota.
She was also very involved with many charities. She volunteered for the United Way of Northeastern South Dakota and, Rod says, was at the Salvation Army every Friday morning filling snack packs. She also served on many local boards, including the Aberdeen Area YMCA, Northern State University Foundation, and the Aberdeen Area Community Foundation. She was also on the state board for Ronald McDonald House for a time, and Rod says, "When they collected aluminum can tabs at schools, she would go around to the Aberdeen schools and pick them up." In addition to her soliciting for the Fairy Godmother's Fund, she also helped raise millions of dollars for organizations including the YMCA, NSU, and the United Way.
Glenna was a success at all these things because, Rod said, "She fit in any place." She really cared for people. The no-nonsense woman would likely bristle at the compliments. Rather, she once called her community involvement "part of the rent you pay for living on earth." In Glenna's case, it's a debt more than fully paid.